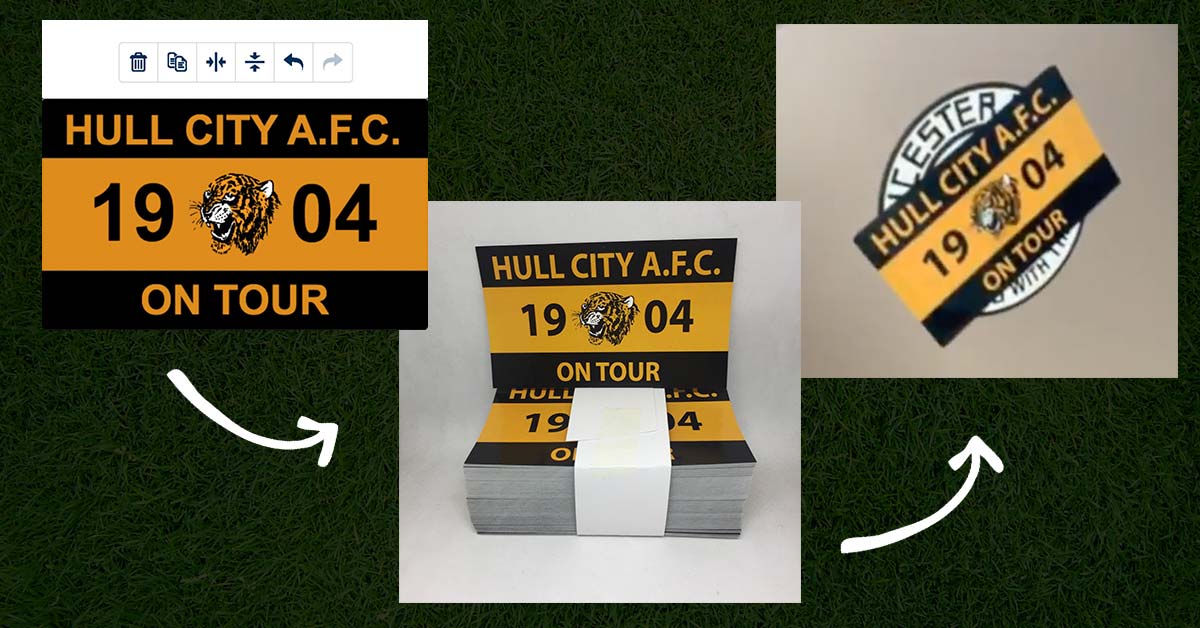 Welcome to Ultras Design and tutorial on how to design your own football stickers!
Before we even start, a quick note: if you don't bother designing at all, try searching our catalogue of predesigned football stickers. Chances are that you'll find something that suits yourself.
Did you know that about 3.5 billion people are watching soccer? That's like half of the planet!
If you're anything like us, you'd say that's great. We are all about soccer. We want more and more people having that edge over watching a game and expressing support for their beloved club.
But you've probably noticed some downsides too…
Big corporations, huge sponsorship contracts, overwhelming political correctness, various authorities and the new rules every day – all are working towards silencing the unique voice of passionate football fans worldwide.
We ARE NOT fans of THAT! And that is the reason why we've started Ultras Design – to provide football fans with merchandise that gets them noticed for their loyalty, creativity and contribution to their club's success.
And off all merchandise, personalised football stickers are probably the most essential item in the arsenal of every passionate ultras football fan. This article will explain how to design your own football stickers.
How to Add Text to Custom Football Stickers
Now, imagine how many creative chants and lyrics don't get noticed because of the big marketing campaigns, budgets and sponsorships! They are silencing our voice, creativity and power to influence the destiny of our favourite football clubs.
How do we fix that? Well, by showing our voice and ideas everywhere! That's why having original and good looking text on the stickers is a must.
First of all, go to the custom football stickers and click Design Online, and then choose your template.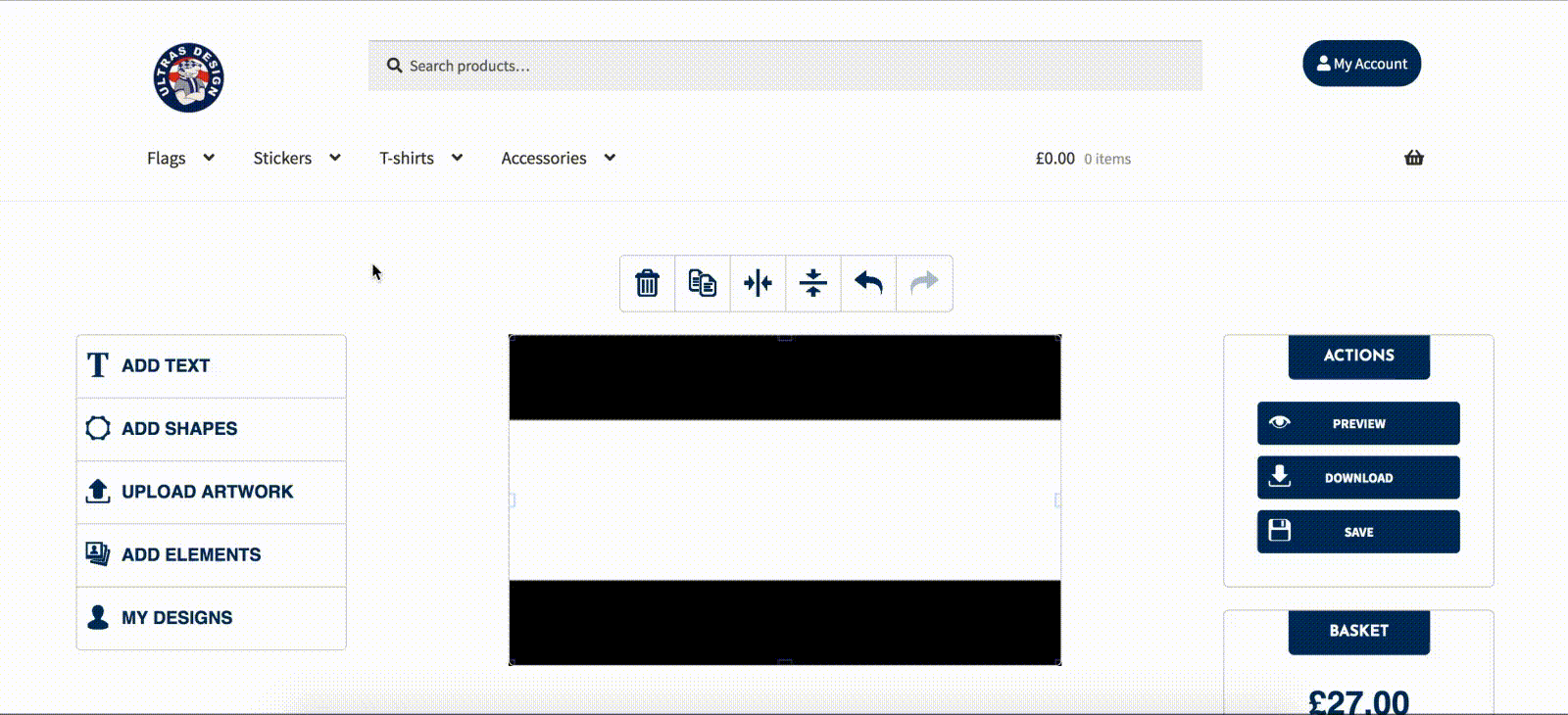 Now, this is just a demonstration. We didn't get very creative here, didn't we? Sorry for that if you are a fan of Leeds United, right?
What is important here is HOW to design your own football stickers. There's no need for mad Photoshop skills here, no need for calling your design guy five times in 15 minutes to discuss whether that word should be bold or not. Just add text, resize it, change its colour and move it around. Simple as that.
How to Upload Your Artwork to Personalised Football Stickers
At Ultras Design, we are often asked what the best practices in designing banners, stickers and other merchandise are.
And our answer is always pretty much the same:
You're freeeeeeee to be whatever you
Whatever you choose
And you'll sing the blues if you want
Oasis lyrics aside, at the beginning of this article, I said that the industry is getting more and more unoriginal. Triteness is everywhere. And we are on a mission to help football fans express their unique image and break some of the uniformity that grew on these years in football.
Without further ado, here's how to upload your stuff from your computer or phone to your custom design.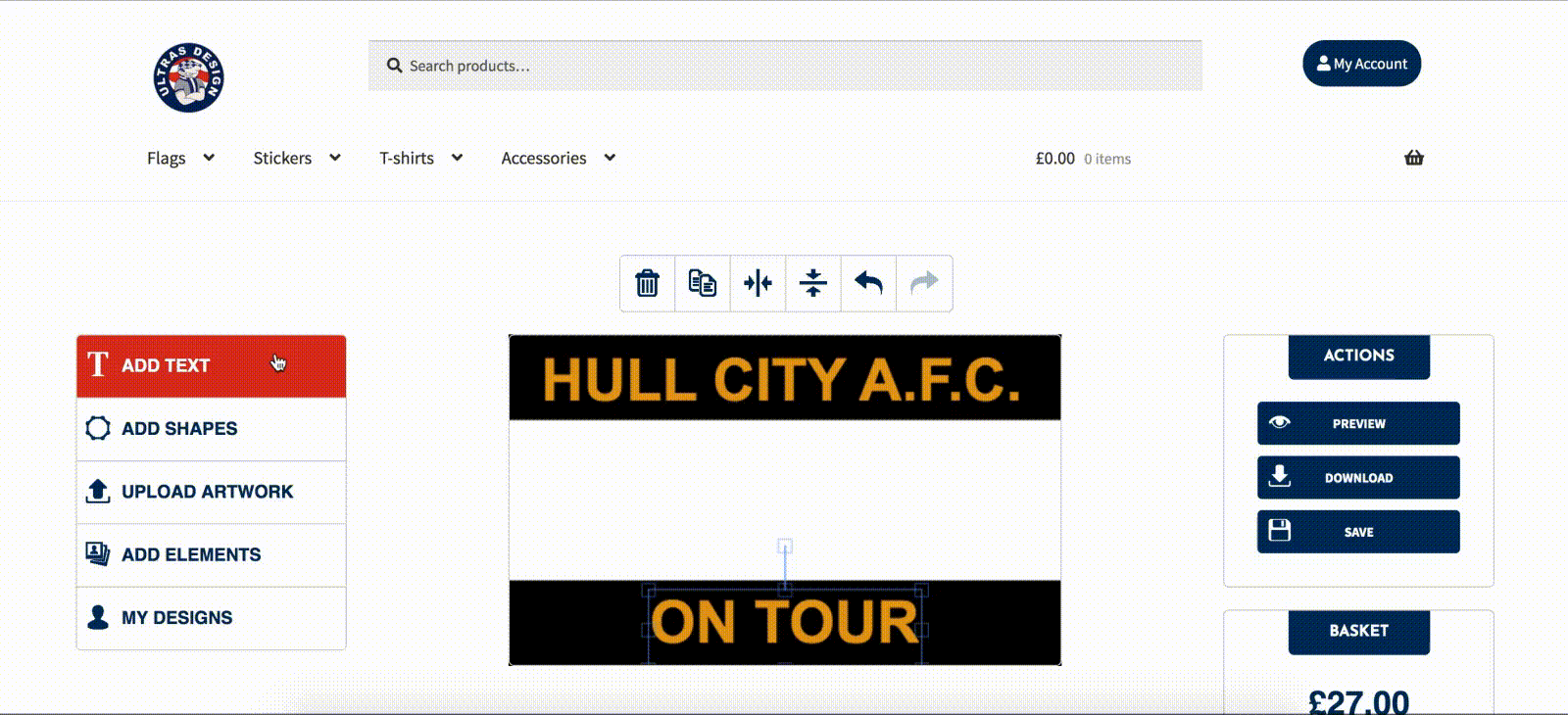 Once again, simple as it gets, right?
And here's how to change that background colour behind that tiger's head.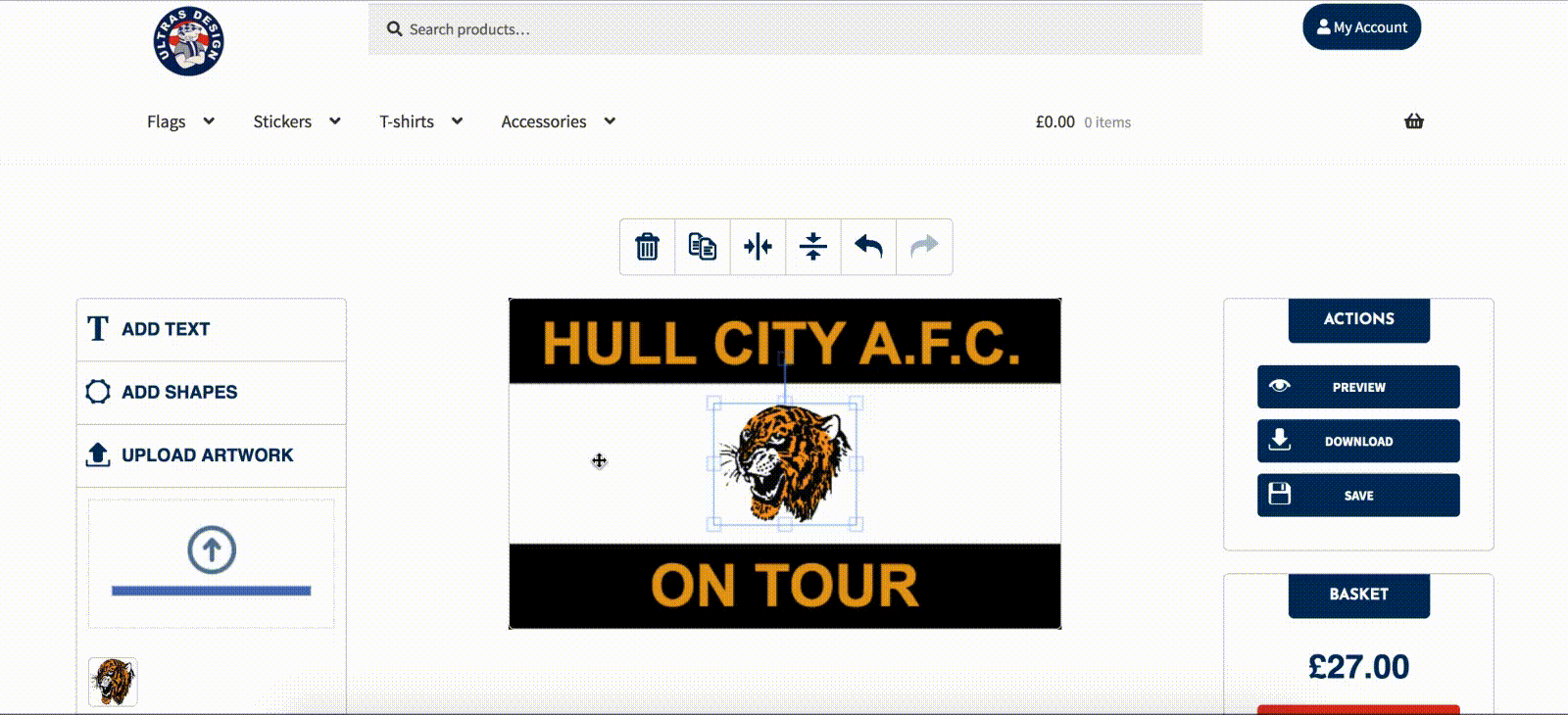 Okay, so far, so good. We are approaching to a decent level of knowledge on how to design your own football stickers.
But, here's the thing.
Ultras Design is an e-commerce store. That means we sell products. But we like to think that we are much more than just a buying-selling machine.
Over six thousand football fans use our website to express their support visually. They create all kinds of designs, and we are proud of each one of them.
So it's vital for you to know the following fact: on our website, you can design stuff with no immediate need to buy it!
There will be a time when you're just brainstorming, looking for inspiration, and that's perfectly fine. We encourage you to do that.
However, you must ensure that your ideas DON'T GET LOST!
How to Save the Design of Your Personalised Stickers for Later Use
Here's how. First of all, and this is very important, register for an account on Ultras Design. Fill our Register form and proceed with the instructions. Once you are logged, in the button in the upright corner of the website will say "My Account" instead "Register / Login".
Once you are logged in, the process of saving the design as simple as it gets. Remember our previous example with HULL CITY A.F.C. ON TOUR?
Let's firstly preview that chap, then save it for later.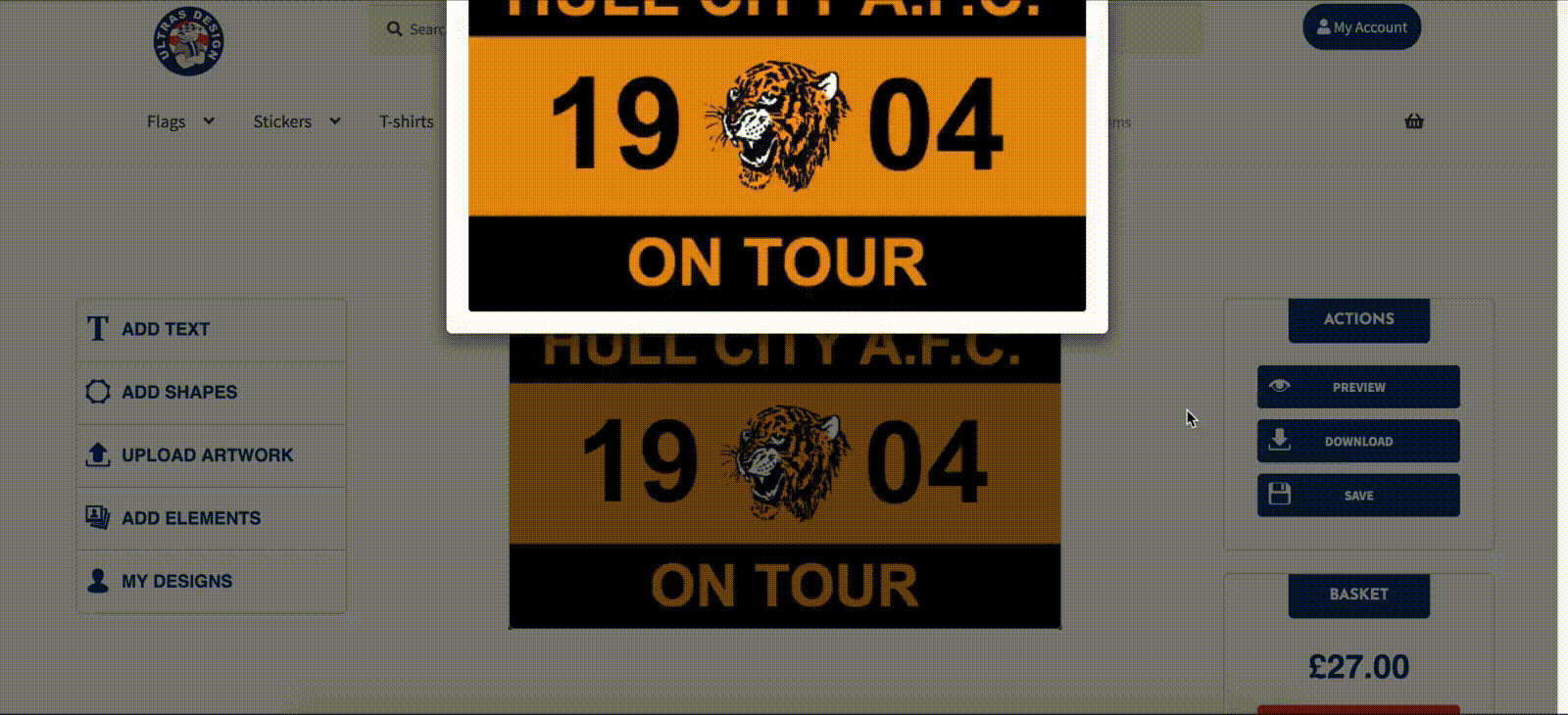 Once you save the design, head over to your account page and click LOAD to load the artwork you want to finish.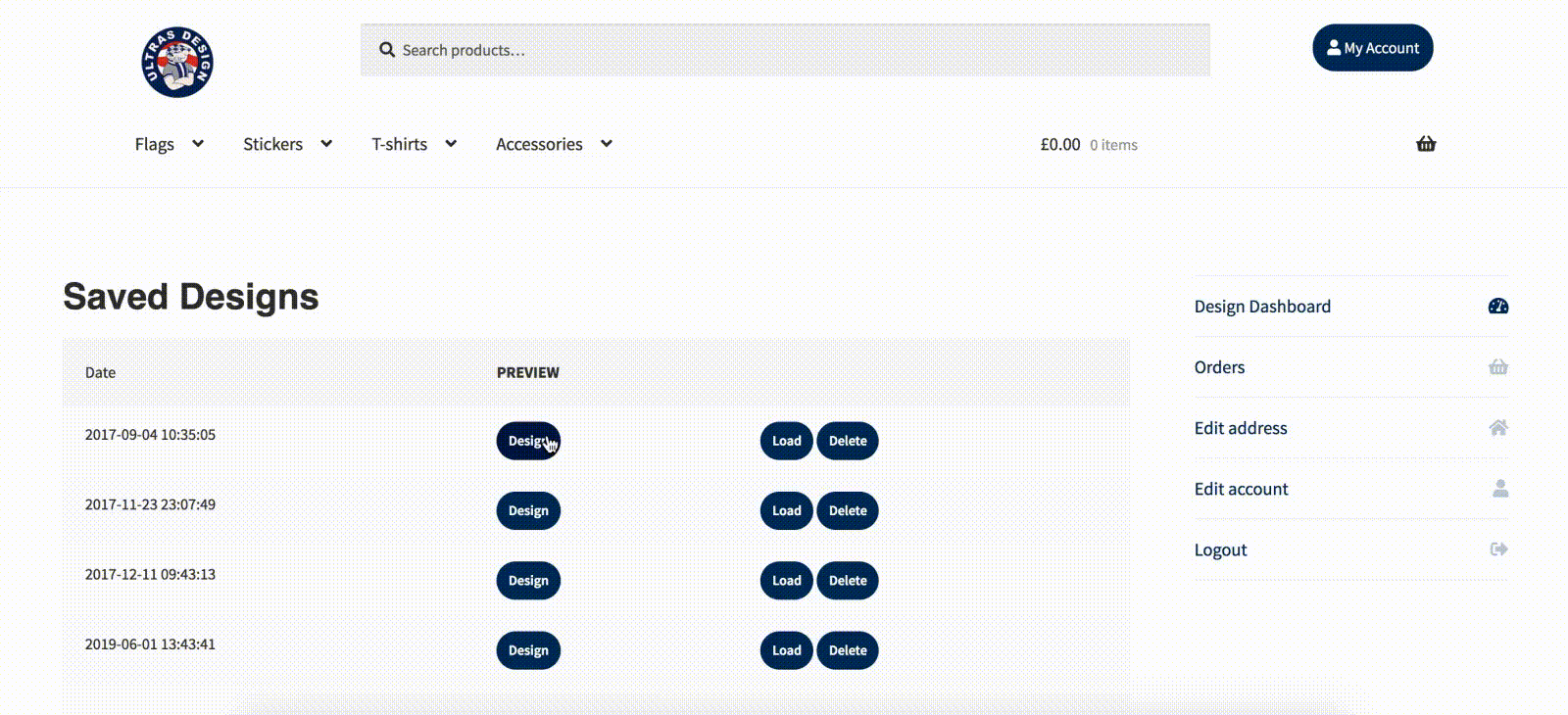 Another way to have access to your saved designs or previous orders is on the design editor itself. Under the MY DESIGNS tab are your saved artworks and artworks of past orders.
How to Add Club Badge, Ultras Elements and Other Shapes to Your Custom Stickers
Have you checked all the cool stuff you can put on your design without the need to upload it manually? It would be bothersome having to find the elements on your computer every time you want to upload them, so we prepared some of the swag for you.
This is a crucial step in being able to design your own football stickers. There are crests of clubs – all of them down to National League (division) + Irish, Scottish and some of the European Clubs. Then there are backgrounds, such as Union Jack, St George Cross and others.
And then there is Various Elements category. Lots of cool ultras and casual stuff there. Check it out.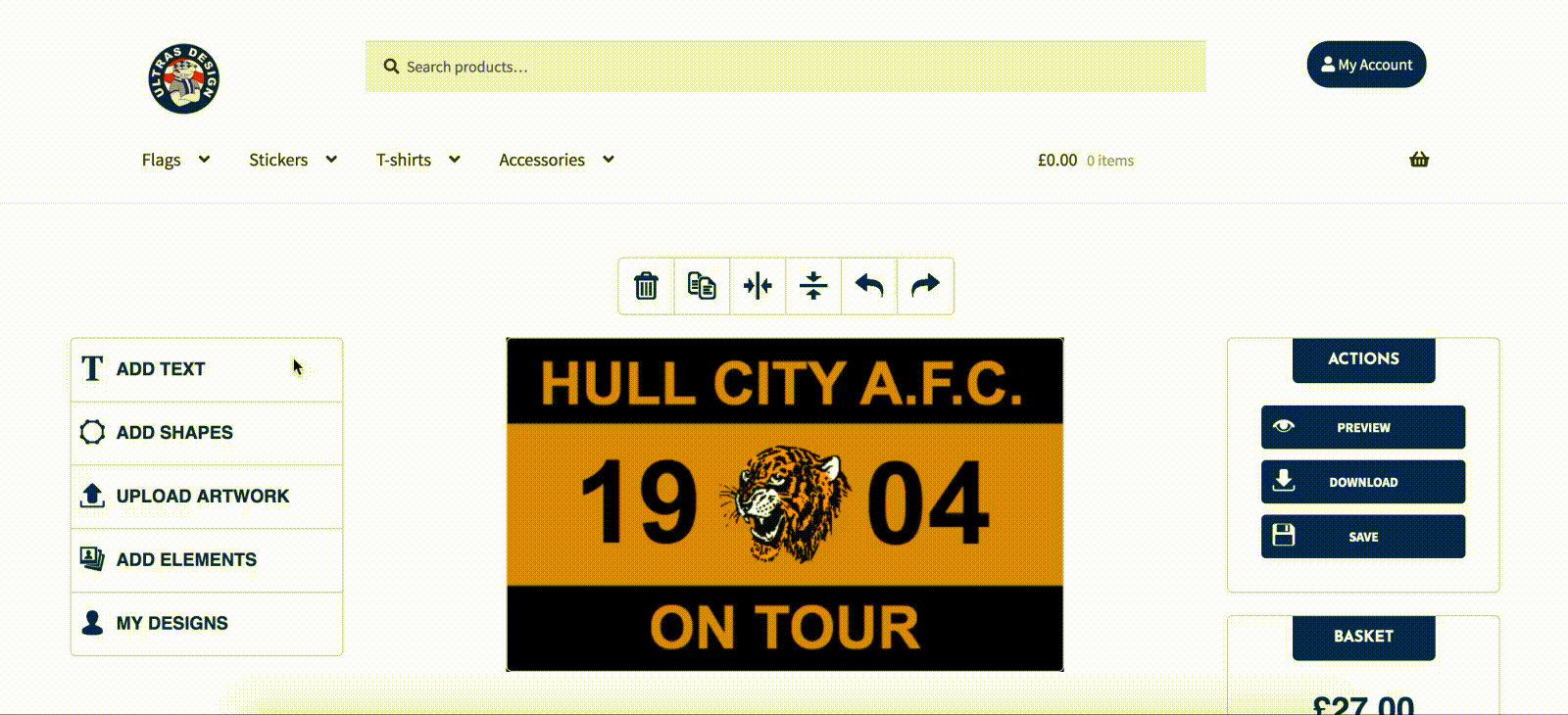 If you ever wanted to add just a right old plain circle or square you can do that as well! There are stars too! But I guess those are reserved for exclusive clubs only, huh?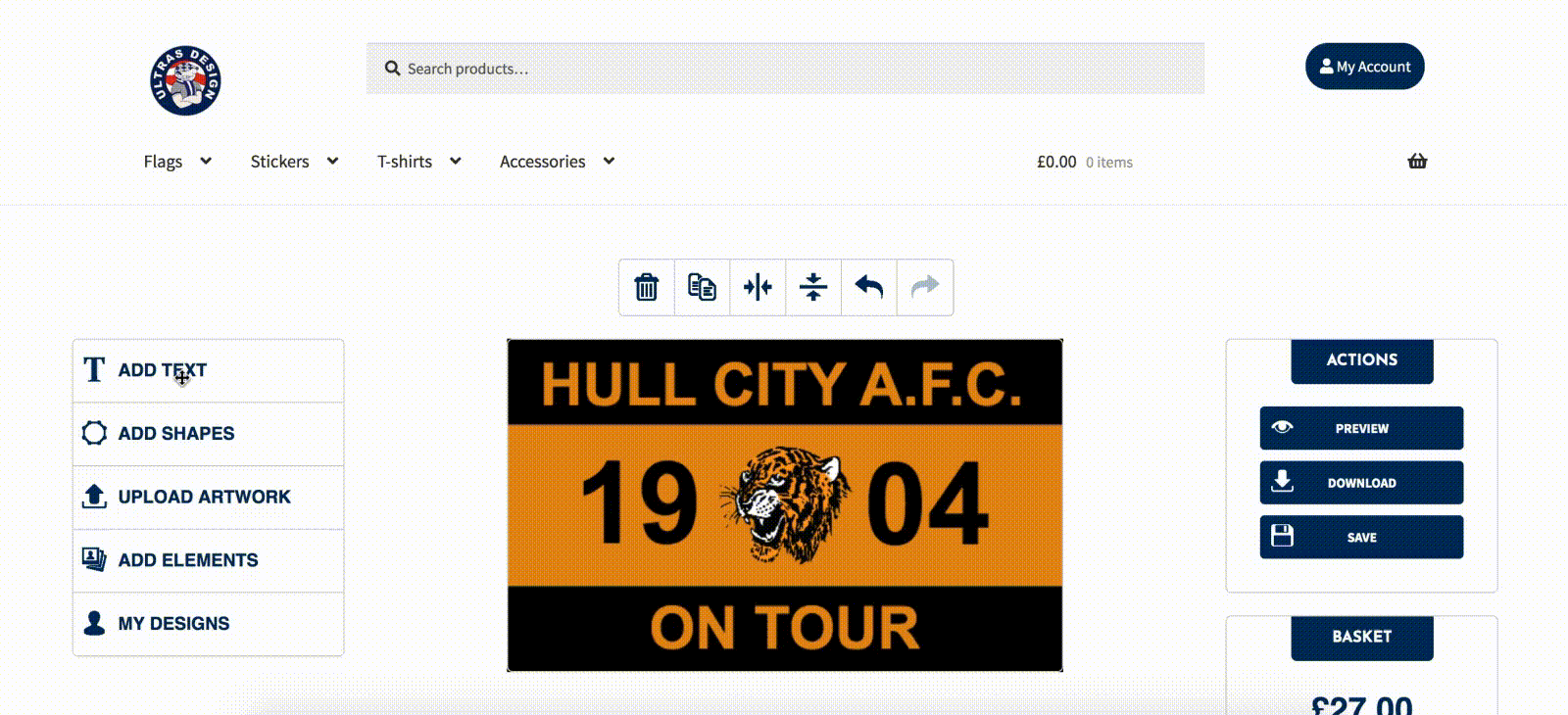 A Solution for Winning and Getting Noticed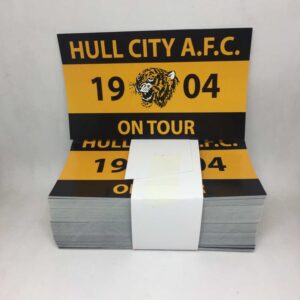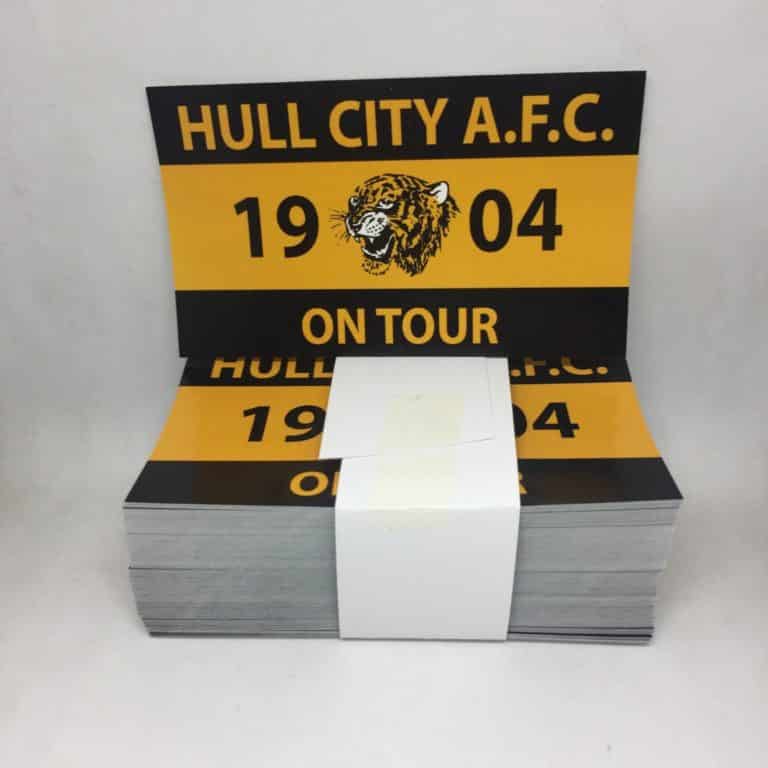 If you're anything like us, you hate the idea of loyal and creative support not getting noticed. I hate the frustration of not having control over my team's performance and seeing my influence on their game limited.
When you are feeling detached from the fan base, silenced and helpless to change things in a truly unique way you want to! What a terrible feeling!
Take Advantage of Our Website and Contribute Creatively to Your Club
A lot of football fans go to games without any club banners or merchandise. But we believe that everybody should show their symbols, messages and support.
That is why we are doing this. That is why we stay late up at night, answering customer queries, polishing their designs. It's because we don't want anyone left over, and we want every one of you to feel empowered to express your support to the favourite club of yours.
We think once you feel the stickers in your hands, you'll feel better about football. Better about your favourite club and your place in their winning or losing.
We can't wait for you and your friends to experience the difference.